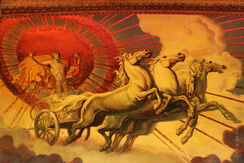 One of Apollo's most important daily tasks was to harness the four horses (Aethon, Pyrois, Phlegon, Eous) pulling his golden chariot, in order to pull the Sun across the sky every day.
Gallery
Ad blocker interference detected!
Wikia is a free-to-use site that makes money from advertising. We have a modified experience for viewers using ad blockers

Wikia is not accessible if you've made further modifications. Remove the custom ad blocker rule(s) and the page will load as expected.