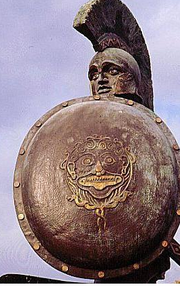 Deimos (Δειμος) is the Greek god of terror. He is the twin brother of Phobos, the god of fear and he is the son of Ares and Aphrodite.
Parents
Spouse & Lovers
Theoi, who is said to have consorted with Deimos, was also a minor goddess who served as the third counterpart of terror, dread. It is unclear if they had any children together.
In Mythology
Deimos & his brother Phobos were often seen driving Ares' Chariot for him when there was battle,
Gallery
Ad blocker interference detected!
Wikia is a free-to-use site that makes money from advertising. We have a modified experience for viewers using ad blockers

Wikia is not accessible if you've made further modifications. Remove the custom ad blocker rule(s) and the page will load as expected.