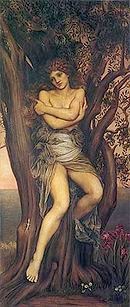 Dryope is a Hamadryades (a group of Dryad nymphs  in the forest near Oxylosis).and Naiad nymph of a poplar tree and spring on Mount Oita in Dryopia (Doris), central Greece. She was originally a Dryopian princess and friend to the original Hamadryades .  Dryope was seduced by Apollo but married Andraemon.  Soon after she gave birth to Apollo's son Amphissus.  When Dryope's son grew up, he built the town of Oeta, and a temple to Apollo.  One day as Dryope was approaching the temple, the Hamadryades gathered her up affectionately and hid her in the woods. In her place they caused a poplar to appear out of the ground. Beside it they made a spring to gush forth. Dryope was changed from mortal to Nymph.  Dryope now became a nymph, and Amphissus built a temple to the nymphs, which no woman was allowed to approach.
Parents
Ad blocker interference detected!
Wikia is a free-to-use site that makes money from advertising. We have a modified experience for viewers using ad blockers

Wikia is not accessible if you've made further modifications. Remove the custom ad blocker rule(s) and the page will load as expected.