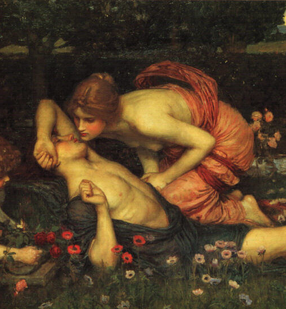 Ekho (Εχω) was a mountain nymph, or an Oread, and lover of Narcissus. One day Hera caught her covering for  Zeus as he flirted with other nymphs, and she made it that Echo could only say the final words of other's phrases. One day she fell in love with Narcissus, but he didn't love her back, for he loved his reflection much more. She died looking upon him and cursed the youth.
Parents
Nowhere Stated
Spouse & Lovers
Children
Iynx
Gallery
Ad blocker interference detected!
Wikia is a free-to-use site that makes money from advertising. We have a modified experience for viewers using ad blockers

Wikia is not accessible if you've made further modifications. Remove the custom ad blocker rule(s) and the page will load as expected.