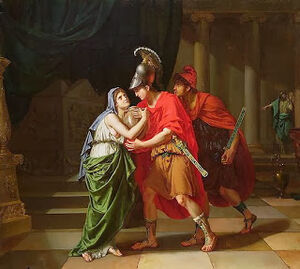 After the murder of her father Agamemnon by his wife by Klytemnestra (Elekra's mother) she along with her brother Orestes set out to avenge their father by killing their mother.
Parents
Spouse & Lovers
Pylades
Siblings
Ad blocker interference detected!
Wikia is a free-to-use site that makes money from advertising. We have a modified experience for viewers using ad blockers

Wikia is not accessible if you've made further modifications. Remove the custom ad blocker rule(s) and the page will load as expected.