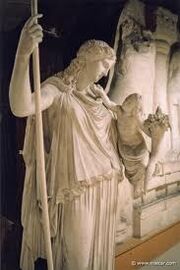 Eunomia was the goddess of good order and lawful conduct. She was associated with the internal stability of a state, including the enactment of good laws and the maintenance of civil order. She was also the spring-time goddess of green pastures (nomia in Greek). Eunomia was one of the Horae, goddesses of the seasons and the keepers of the gates of heaven. Her sisters were the goddesses Dike (Justice) and Eirene (Peace, Spring). Her opposite number was Dysnomia (Lawlessness).
She was frequently depicted in Athenian vase painting amongst the companions of Aphrodite, and in this sense represented the lawful or obedient behaviour of women in marriage. As such she was identified with Eurynome, mother of the Charites (Graces).
Ad blocker interference detected!
Wikia is a free-to-use site that makes money from advertising. We have a modified experience for viewers using ad blockers

Wikia is not accessible if you've made further modifications. Remove the custom ad blocker rule(s) and the page will load as expected.