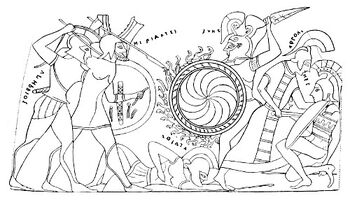 Harpolykos was one of two Gigantes that Hera killed.  Harpoykos not shown as often as Phoitos though she is shown on one side of a Black figure Amphora which was dated somewhere between 575 B.C. to  525 B.C.  she is shown on the far left stabbing Harpolykos with a knife or sword while her husband faced off against Hyperbios and Agasthenes.  The fallen Ephialtes (who had been killed by the unpictured Apollo) is also shown.
Parents
Gaia & Tartaros
Trivia
Fighting against the Gigantes Phoitos and Harpolykos  in the  Gigantomakhia was the first time Hera ever directly involved herself in the attempts to destroy enemies (sending a Crab to distract Herakles during his second labor.
Ad blocker interference detected!
Wikia is a free-to-use site that makes money from advertising. We have a modified experience for viewers using ad blockers

Wikia is not accessible if you've made further modifications. Remove the custom ad blocker rule(s) and the page will load as expected.