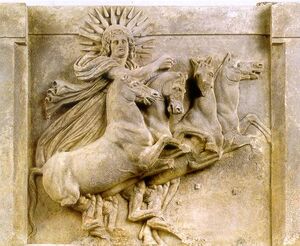 Helios (Ἡλιος) was the Titan of the sun and personification of the sun. He precedes Apollo as the charioteer of the sun.
Myth
Early History
Helios was the son of Hyperion, brother to Selene and Eos. He took the side of the Olympians in the Titan-God war.
Aftermath
When Apollo was born, Helios gave up his duties as ruler of the sun and gave them to Apollo. Helios was still personification of the sun, however.
Bringer of Daylight
Helios would bring daylight by driving on his four-horse sun-chariot from the East to the West. Homer describes it in his Homeric Hymn as: "Driving his horses, he shines upon men and immortal gods. His eyes gaze piercingly out of his golden helmet, bright rays beam brilliantly from his temples, and the shining hair of his head graciously frames his far-away face. A rich, fine-spun garment gleams on his body and flutters in the winds, and stallions carry him."
Parents
Spouse & Lovers
Children
Kirke (Daughter with Perseis)
King Aeetes (Son with Perseis)
Pasiphae (Daughter with Perseis)
Phaethon (Son with Klymene)
Astris (with Keto)
Aloeis
Perses
Grandchildren
Grandgrandchildren
Siblings
Other Names
The Sun
Sol Indiges in Roman Mythology (not to be confused with Sol Invictus)
Gallery