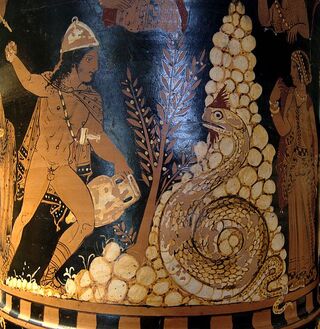 Kadmos was a Greek hero whose exploits include slaying Ismenian Dragon. After killing the Dragon, on advice from the goddess Athena, Kadmos planted the teeth in the ground and watered it. From the teeth were born a race of warlike, earth-born warriors sprung forth in full armor called the Spartoi.
Parents
King Agenor and Queen Telephassa
Spouse & Lovers
Children
Gallery
Ad blocker interference detected!
Wikia is a free-to-use site that makes money from advertising. We have a modified experience for viewers using ad blockers

Wikia is not accessible if you've made further modifications. Remove the custom ad blocker rule(s) and the page will load as expected.