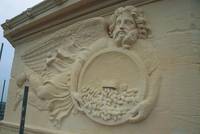 Kaikias was the Greek god of the northeast wind, he is one of the lesser known wind gods annd the best image of him is on The Tower of the Winds in Athens.
Appearance
He is shown as a bearded man with a shield full of hail-stones
Parents
Eos (Mother) & Astraios (Father)
Siblings
Other Names
The Roman spelling of Kaikias was Caecius his name is cognate to the Latin word caecus "blind", that is, he was seen as a "dark" wind.
Ad blocker interference detected!
Wikia is a free-to-use site that makes money from advertising. We have a modified experience for viewers using ad blockers

Wikia is not accessible if you've made further modifications. Remove the custom ad blocker rule(s) and the page will load as expected.