Kalypso

Name:

Calypso

Goddess of:

Title:

No information

Symbol:

Dolphin

Weapons/Items:

Magic

Roman Name:

No information

Consorts:

Children:

Siblings:

Parents:
Kalypso (Καλυψω) was the daughter of one of the Titans, generally being regarded as a daughter of Atlas, and probably Klymene. Because of her father siding with the Titans in the Titanomachy, she was exiled to the island Ogygia, which she could never leave. When Odysseus landed on her island in the Odyssey, she fell in love with him. However despite her best attempts and baring him two sons; Nausithous, Nausinous, and Latinus. Kalypso could not make him happy and allowed him to make a raft and leave. Hesiod mentions either different Kalypsos or the same Kalypso as one of the Okeanid daughters of Tethys and Okeanus.
Parents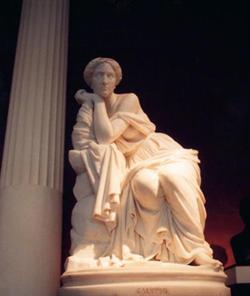 Gallery
Ad blocker interference detected!
Wikia is a free-to-use site that makes money from advertising. We have a modified experience for viewers using ad blockers

Wikia is not accessible if you've made further modifications. Remove the custom ad blocker rule(s) and the page will load as expected.