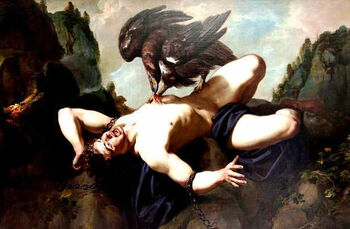 The Aetos Kaukasios or The Kaukasios Eagle is a giant eagle that was summoned by Zeus to be used in the punishment and torture of Prometheus.
Mythology
After Prometheus had betrayed Zeus and given fire to the humans, he was chained to the top of a mountain so that every day the Kaukasios Eagle would fly to him and eat out his liver. Since he was immortal, his liver would regrow and would be eaten out the next day.
In some myths, Herakles killed the eagle and freed Prometheus.
Gallery
Trivia
Ad blocker interference detected!
Wikia is a free-to-use site that makes money from advertising. We have a modified experience for viewers using ad blockers

Wikia is not accessible if you've made further modifications. Remove the custom ad blocker rule(s) and the page will load as expected.