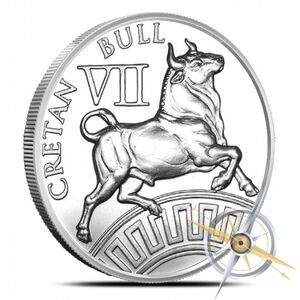 The Kretan Bull (or Tauros Kretaios) was a bull that was created by Poseidon.
Mythology
Birth
The Queen of Crete, Pasiphae, fell in love with animal, under the influence of Poseidon when Minos defied him. She had Daedalus create a wooden cow so that she could get close to the bull. She eventually gave birth to the Minotaur, a monster that is half-human and half-bull.
Labor of Heracles
Heracles was ordered to capture the bull as one of his various labours. After Heracles captured the bull, he released it in Marathon where it attacked the countryside. It was eventually killed by Theseus. The bull became a constellation (Taurus) after its death.
Gallery
Family
Ad blocker interference detected!
Wikia is a free-to-use site that makes money from advertising. We have a modified experience for viewers using ad blockers

Wikia is not accessible if you've made further modifications. Remove the custom ad blocker rule(s) and the page will load as expected.