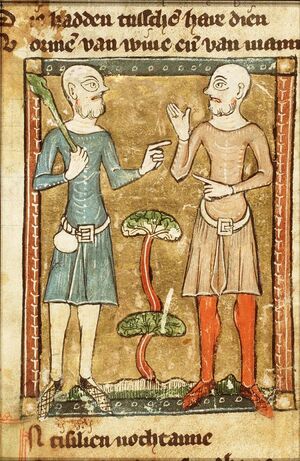 The Kyklopses (Κυκλωψ) were gigantic, single-eyed humanoids. The first Kyklopses aka Elder Kyklops were Arges, Brontes, and Steropes. They were imprisoned by their father, Ouranos, and eventually released by Zeus and his siblings. For some reason, their brother, Kronus, king of the titans, had decided not to release them. As token of their gratitude towards the Gods, the Kyklopes, being talented blacksmiths, made the Three Brothers their symbols of power. They made Zeus his never ending sack of lightning bolts, to Hades, his Helm of Darkness, and to Poseidon, his Trident which can control the waves. Polyphemus (the cyclops Odysseus encountered on his voyage and blinded), was a cyclops, but he was the son of Poseidon and Thoosa.
Ad blocker interference detected!
Wikia is a free-to-use site that makes money from advertising. We have a modified experience for viewers using ad blockers

Wikia is not accessible if you've made further modifications. Remove the custom ad blocker rule(s) and the page will load as expected.