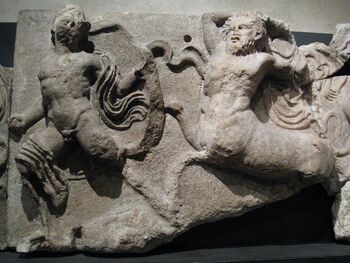 Kyllaros was one of the Thessalioi. The best known story about the Thessalioi Kentauroi is when they and one Kentaurid named Hylonome (his wife) were invited to attend the wedding of their half-brother Peirithoos, the Lapith king. The Thessalioi Kentauroi became drunk and attempted to carry off the bride and the female guests. In the battle which ensued the Kentauroi including Kyllaros were all but wiped out.
Parents
Spouse & Lovers
Ad blocker interference detected!
Wikia is a free-to-use site that makes money from advertising. We have a modified experience for viewers using ad blockers

Wikia is not accessible if you've made further modifications. Remove the custom ad blocker rule(s) and the page will load as expected.