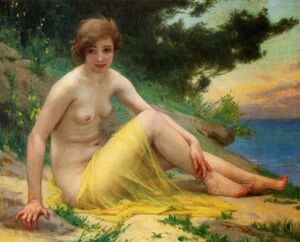 Psamathe was the Nereid goddess of sand beaches. Her name means "the Sand-Goddess" from psammos, sand and theia, goddess.
Psamathe was the wife of Proteus, the old seal-herder of Poseidon. She bore him a mortal son and a sea-nymph daughter.
The goddess was also seduced by the Aiginetan king Aiakos (Aeacus) who ambushed her on the beach. She tried to escape his grasp by transforming herself into a seal, but he refused to give up and she conceded to his desires, bearing him a son named Phokos (Phocus, "the Seal").
The boy was the favorite of his father, which the jealousy of his half-brothers Peleus and Telamon. The pair conspired to murder him and were exiled from the island. Psamathe was aggrieved and sent a giant wolf to harass the flocks of Peleus. However, through the advise of Thetis, his wife and the sister of Psamathe, he managed to assuage the goddess with sacrifices
Parents
Spouse & Lovers
Proteus (Husband)
Aiakos (Rapist)
Children
Phokos (by Aiakos)
Eidothea (by Proteus)
Theoklymenos (by Proteus)
Ad blocker interference detected!
Wikia is a free-to-use site that makes money from advertising. We have a modified experience for viewers using ad blockers

Wikia is not accessible if you've made further modifications. Remove the custom ad blocker rule(s) and the page will load as expected.