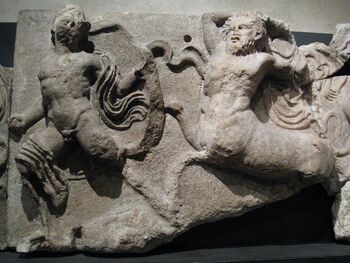 Thereus was one of the Thessalioi Kentauroi. The best known story about the Thessalioi Kentauroi is when they and one Kentaurid named Hylonome were invited to attend the wedding of their half-brother Peirithoos, the Lapith king. The Thessalioi Kentauroi became drunk and attempted to carry off the bride and the female guests. In the battle which ensued the Kentauroi were all but wiped out. Most likely Thereus was among the number killed.
Parents
Ancient Text
"Wine is many a man's undoing, when he gulps his draught and will never drink discreetly. Wine it was that darkened the wits of Eurytion the Kentauros (Centaur) in the palace of bold Peirithoos. The kentauros had come to the Lapithai's country, and now with wine he clouded his understanding and in his frenzy did monstrous things in the very hall of Peirithoos. The heroes were seized with indignation; they leapt up, they dragged the kentauros across the courtyard and out of doors, they lopped off his ears and nose with the ruthless bronze, and the frenzied creature went his way, taking his retribution with him in his still darkened mind. From this beginning came the long feud between men and Kentauroi (Centaurs), but it was Eurytion first of all who brought chastisement on himself by his drunkenness."
- Homer, Odyssey 21. 293 ff (trans. Shewring) (Greek epic C8th B.C.)
Ad blocker interference detected!
Wikia is a free-to-use site that makes money from advertising. We have a modified experience for viewers using ad blockers

Wikia is not accessible if you've made further modifications. Remove the custom ad blocker rule(s) and the page will load as expected.