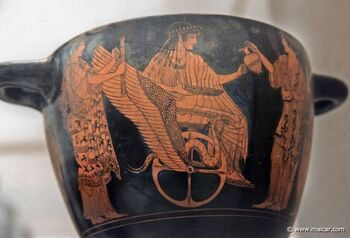 Triptolemus was a god of farming, made god by Demeter.
When Hades kidnapped Persephone, daughter of Demeter, Demeter looked for her daughter everywhere. One night, she slept at King Keleos's palace, who was Triptolemus's father. Demeter, to show that she was grateful, decided to give immortality to Demophon, son of Keleos. However, she was interrupted in the rite by Metaneira, wife of Keleos, so Demophon couldn't become immortal. Instead, Demeter gave immortality to Keleos's other son, Triptolemus. Triptolemus became the god of farming, and Demeter gave him a chariot droven by two serpents.
Ad blocker interference detected!
Wikia is a free-to-use site that makes money from advertising. We have a modified experience for viewers using ad blockers

Wikia is not accessible if you've made further modifications. Remove the custom ad blocker rule(s) and the page will load as expected.