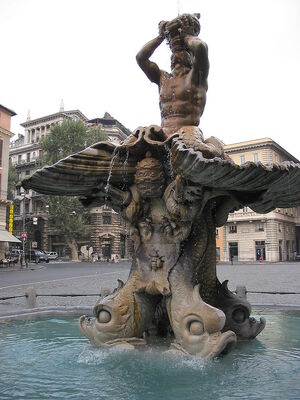 Triton
(Gr: Τριτων) is a minor
god
of the seas. He is also the messenger and herald of
Poseidon
and
Amphitrite
. His Roman Counterpart is Triden.
Myths
Triton is the son of Poseidon and Amphitrite. Like his mother he has a fish tail. Triton always carried a trident and a conch shell for which he used to calm or rustle the sea waves, its sound was so terrible, that when loudly blown, it put the giants to flight, who imagined it to be the roar of a mighty wild beast.
When the Argonauts were stranded in the desert he is said to have assisted them in finding passage from the lake back to the sea.
Triton was the father of Pallas and foster parent to the goddess Athena. During a fight between the two goddesses, Pallas was killed by Athena.
Triton may also have been the father of the sea monsters Kharybdis and Scylla by Lamia.
Parents
Gallery
Ad blocker interference detected!
Wikia is a free-to-use site that makes money from advertising. We have a modified experience for viewers using ad blockers

Wikia is not accessible if you've made further modifications. Remove the custom ad blocker rule(s) and the page will load as expected.